Garden State Conference in Atlantic City - September 25-27 2016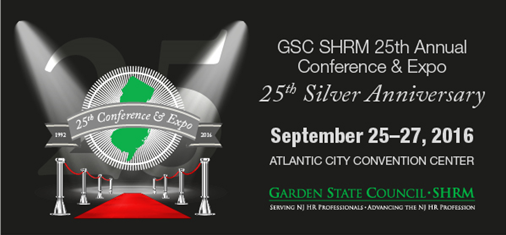 Educational Opportunities Abound at the Garden State Council-SHRM's Annual Conference & Expo Silver Anniversary Celebration September 25–27
More than 700 attendees from around the state of New Jersey are expected to attend the GSC – SHRM 2016 Annual Conference and Exposition, to be held September 25 – 27, 2016 at the Atlantic City Convention Center.
Participants will choose from more than 65 educational sessions with topics ranging from HR strategy and talent acquisition to employment laws and leadership development, and they will have the opportunity to visit with over 60 Exhibitors showcasing HR products and services. Attendees can also take advantage of the Sunday Business Education on September 25th with Dr. Carl Persing of Metrus Group will present HR in the Driver's Seat: Organizational Strategy and Jay Jacobson, President, Celemi, USA, will present Celemi Cayenne™ for Human Resources, an interactive business simulation for Project Management. Both Sunday Educations have been pre-approved for 4 business credits from the HR Certification Institute and for professional development credit from SHRM.
---
Keynote Speakers are:
Jon Petz, CSP Significance in Simple Moments. Jon is the founder of Bore No More™, an idea lab for increasing personal and employee engagement. He is the author three books, two of which reaching National Best Selling lists; Boring Meetings Suck (2011) & Significance . . . In Simple Moments (2014). The USA Today, Wall Street Journal, CNBC, ABC News, Success Magazine and many other media outlets have covered the success of Jon Petz as an author, thought leader and engagement expert. American Business Journals named him a top 40 business professionals under the age of 40. As a comedy magician, he's appeared on NBC, CBS, FOX, Food Network and has opened for groups from the American Idol Tour to Rascal Flatts.
Susan Meisinger, former President and CEO of SHRM and China Gorman, former CEO of Great Place to Work Institute will co-moderate a panel discussion of Chief Human Resources Officers from a variety of for-profit and non-profit organizations. The conversation, entitled, "On Leadership, Gender and More: Confronting the Issues with Solutions" will include the following panel members: Cheryl Bucci, VPHR, ASPCA and Bernadette Palumbo, VPHR, BASF, with others still being confirmed.
Nikki Johnson-Huston, Esq. Speaker, Attorney, Advocate: From Homeless to Lawyer: One Woman's Amazing Journey. Hear the amazing story of Nikki Johnson-Huston, Esq. who went from being a homeless child to a successful Philadelphia tax lawyer, entrepreneur and advocate for the poor, Donafy App developer of a micro-philanthropy iPhone app that allows citizens in Philadelphia to locate and donate to nearby nonprofit organizations that service people in need of emergency housing, food, medical care, mental health, job training, LGBT and Legal Services. A 2004 graduate of Temple University Beasley School of Law, she earned a J.D./M.B.A/LL.M in Taxation in only four years. Nikki overcame a life of poverty and homelessness before becoming a successful attorney. A determined advocate for the homeless, Nikki is an in demand inspirational speaker who shares her story with organizations around the country.
Top 5 Reasons to Attend
1. Learn new skills and upgrade old ones.
2. Network with peers.
3. Meet new vendors and suppliers.
4. Hear from experts on timely topics.
5. Have fun!